Popular
|
New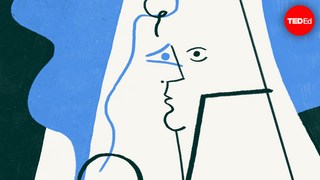 369 Views
'First Kiss'
This animation is part of the TED-Ed series, "There's a Poem for That," which features animated interpretations of poems both old and new that give language to some of life's biggest feelings. [Poem by Tim Seibles, directed by Hannah Jacobs, music by Stephen LaRosa].
Post date : 2019-05-18 18:49
Posted by : moviegoer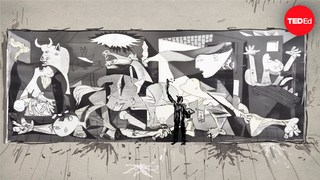 338 Views
Why is this painting so shocking?
In 1937, in one of the worst civilian casualties of the Spanish Civil War, Fascist forces bombed the village of Guernica in Northern Spain. For Pablo Picasso, the tragedy sparked a frenzied period of work in which he produced a massive anti-war mural, titled "Guernica." How can we make sense of this overwhelming image, and what makes it a masterpiece of anti-war art? Iseult Gillespie investigates. [Directed by Avi Ofer, narrated by Adrian Dannatt, music by Marcos Tawil].
Post date : 2019-05-12 13:52
Posted by : moviegoer 637 Views
On Being Hated (2016)
Being disliked by others is one of the most unavoidable but unpleasant realities: learning to cope without panic belongs at the core of wisdom. A short film for the School of Life Directed, Animated and Designed by Luiz Stockler Written and Narrated by Alain de Botton Assistant Animation by Dana Giurescu Commissioned by The School of Life Facebook - facebook.com/luizstockleranimation Instagram - instagram.com/luizstocklerstudio Twitter - twitter.com/LuizStockler
Post date : 2016-12-02 11:35
Posted by : peter88 587 Views
Love Warrior: "The Rules" by Glennon Doyle Melton
Popularity is a game governed by the wrong rules - don't play! Instead, spend your time feeding your three selves until your body is strong, your spirit is huge, and your mind is brilliant. Get stronger, louder, and wiser until you appear! A huge SALT Project thank you to Glennon Doyle Melton - New York Times bestselling author and mastermind behind Momastery.com - for giving us the opportunity to create a series of short films inspired by her new memoir, "‪Love Warrior‬." saltproject.org lovewarriorbook.com
Post date : 2016-12-02 11:33
Posted by : peter88 581 Views
Video Essay: POWDER "Outside Appearance"
October 27th marks the 21st anniversary of the release of the classic film "Powder" directed by Tim Burton. I thought I'd take a look back and remember some of the cool stuff they put in the movie. It's important because it's filled with character dialogue, a great message, hope for humanity, and more. I hope you enjoy my take on it. If you're not familiar with the video essay format, don't worry, you'll catch on quick, it's just me talking over awesome footage from the movie. Maybe you'll even be inspired to make your own video essay -- it's important that we have millions of video essays or film culture is in deep shit. For every movie or movie topic, there should be at least 5 video essays. Thanks! If you enjoyed this essay and would like to support movies, please consider purchasing a hat that says 'movies' on it: moviesbrand.com/the-movies-collection/movies-hat
Post date : 2016-12-02 11:30
Posted by : peter88