All blog posts tagged with wedding gown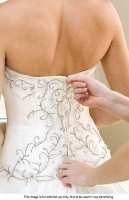 - Almost as long as there have been bridal gowns, white or ivory have been the colors of choice for first-time brides. These light hues represent...
Read entire post
Posted on: 19 Jul 2011 10:16:58 pm
- (MS) -- When it comes to weddings, much is made of the bride's wedding gown. Typically the end product of an exhausting yet enjoyable search,...
Read entire post
Posted on: 27 Apr 2010 08:52:40 am