Balancing Act: Tips for Juggling the Responsibilities of Work and School

Posted by moviegoer from the Careers category at 10 Jul 2011 07:47:51 pm.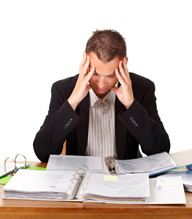 Balancing work and the commitment of earning an advanced degree can be daunting. But it is a reality many adult learners face as they continue their education while juggling personal, family and financial responsibilities.
The good news is that there are many tips and resources available to help ease stress and make balancing work and school manageable.
1. Capitalize on flexible class scheduling. An increasing number of colleges and universities are tailoring education to suit working students' schedules. DeVry University, for example, offers flexible scheduling in a "mix and match" format that allows students to enroll in a combination of onsite or
online courses
during the day or evening, based on convenience.
2. Make a schedule and stay organized. A calendar that outlines upcoming work and school projects, meetings and deadlines takes little time to create and can make a busy schedule feel under control.
"Time management is an essential quality and core competency for most professionals, and this will be a good test of one's mettle," explained Jeffrey Greenberg, director of career services for DeVry University. "This skill gets easier over time and will ensure that your work does not pile up, preventing you from meeting deadlines."
3. Address your stress. The weight of multiple obligations can be overwhelming. It's important to take breaks to obtain a fresh perspective. Exercise and social interaction provide the perfect opportunity to relieve stress and refocus your thoughts, allowing you to return to coursework with a clear mind and renewed sense of energy.
4. Take advantage of your school's resources. The network of classmates and professors your school offers can provide support and advice for balancing work and school. The economic recession has led many schools to launch career services departments or strengthen existing ones.
5. Create a support network. Harness the support of friends and family, and see if they can help you accomplish your goals. This support could be something as simple as meeting with a roommate to plan household chores or meals for the month.
It is important to remember that the hard work and sacrifice required to balance work and school often lead to career success.