CPA Candidates Prepare to Join Growing Industry

Posted by moviegoer from the Careers category at 10 Jul 2011 07:35:04 pm.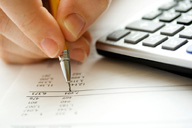 While many industries have shed jobs in the face of a shrinking economy, the historically stable accounting profession is expanding as regulatory scrutiny increases and baby boomers in the field retire.
Bachelor's degree holders are flooding back to school to advance their careers and secure high-level positions now available in accounting. If you've earned your bachelor's degree in accounting or business administration with an accounting focus, you can move ahead in your career by acquiring your CPA designation. The first step toward achieving this professional goal is passing the Certified Public Accountant (CPA) exam.
The CPA exam is extremely challenging, and according to a study conducted by the American Institute of Certified Public Accountants (AICPA), approximately 28 percent of candidates who took all four sections of the Uniform CPA Exam passed all sections on their first try. To bolster their skill set and increase their chances of success, many CPA candidates enroll in CPA preparation.
But what about CPA candidates who also want to pursue their Master of Business Administration (MBA), or may decide to in the future?
Some higher education providers offer CPA prep coursework that may count toward the 150 hours required to satisfy CPA exam and/or licensing requirements in most states.
Eligible students save time and money by simultaneously preparing for the CPA exam and earning credit toward graduate-level academic degrees, such as an MBA.
For instance, DeVry University's
Keller Graduate School of Management
recently began offering an innovative new graduate certificate in CPA Preparation with two tracks: Professional Leadership and Advanced Accounting. This new graduate certificate prepares candidates for the CPA exam while earning academic credits.
"Graduate certificates are a cost-effective way to earn academic credentials and address current industry demand in a short time frame," explained Jesus Fernandez, associate provost for curriculum at DeVry University.
The 30 credit hour program builds on previous undergraduate accounting studies, educating students through the real world experience of highly knowledgeable faculty. The advanced accounting coursework can stand alone as a relevant academic credential or become a stepping stone to an MBA.
The Keller Graduate School of Management Graduate Certificate in CPA Preparation integrates Becker Professional Education's CPA Review Methodology. Best of all, it is available on campus, online, or both, an ideal offering for working professionals looking to gain a professional edge with an additional credential.