The Family That Plays Together Stays Together

Posted by moviegoer from the Arts & Entertainment category at 10 Jul 2011 07:00:59 pm.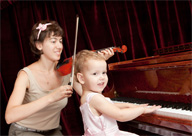 Many families today might want to spend more quality time together, but it can be difficult to find activities that each family member will enjoy. The baseball fan might not be interested in an upcoming art exhibit, and an art enthusiast might not want to spend all day in a stadium. So, what can families do to come together in a meaningful, interesting way?
Families might want to consider learning musical instruments together. According to a 2009 Gallup poll conducted by the National Association of Music Merchants (NAMM), 85 percent of the Americans who do not play musical instruments wish that they did. And there are plenty of reasons for playing instruments beyond family bonding.
Studies show that babies prefer singing to talking -- they pay more attention to mom's singing than her words. Babies who are sung to sleep also show better development than those who are not. Toddlers enjoy exposure to new songs and singing as part of playtime, and they are never too young to start playing an instrument.
Children who study music develop discipline and the ability to solve problems, communicate and work cooperatively. A Columbia University study revealed that students studying the arts are more cooperative and self-confident, and better able to express ideas. Children develop new skills quickly, too. One study found that kids learning music for just one year increased their ability to memorize information.
These benefits don't disappear as children grow up. Teenagers report that playing instruments helps them cope with loss, peer pressure and academic stress. Among working adults over age 45, recreational music making has been proven to reduce stress and ease depression.
Buying musical instruments and arranging music lessons can create a common bond between family members and provide memories to last a lifetime.
To find music lessons near you, visit
www.wannaplaymusic.com
or stop by your local music store.