Throw a Birthday Party On a Budget

Posted by moviegoer from the Arts & Entertainment category at 10 Jul 2011 06:51:52 pm.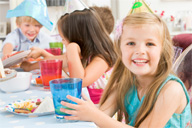 A birthday celebration can be anything from a quiet dinner to an extravaganza with party hats, games and noisemakers - and you can pull off either one even if you are
on a budget
. Here are some tips:
* Set a budget. Before you do anything else, set a budget for food, drinks, decorations and other party-related costs. To avoid buying more than you need, confirm your guest list. If you don't want guests to spend a lot on gifts, write a suggested spending limit on your invitations.
* Find affordable gifts. Retailers like Dollar General (
www.DollarGeneral.com
) offer many gift choices for both
children and adults. Many children's toys are priced under $10, and birthday cards are always two for $1.
Grown-ups love getting personalized gifts, like framed pictures. You might also want to consider purchasing an item that will brighten up the birthday boy or girl's home or office. Decorative clocks, lamps and other home furnishings are useful as well as aesthetically pleasing.
* Give back to the community. Announce plans to donate gifts to a good cause, and you'll relieve your guests of the pressure and money that can go into choosing the perfect gift. Ask guests to bring cans for a donation to your local food pantry. For a child's party, have guests bring a children's book or stuffed animal that can be donated to a local children's hospital.
* Let them eat cake. Saving room for dessert is never more important than when you're at a birthday party. Stock up on an assortment of options, including cake mixes, pie crusts, fruit fillings, ice cream, cake decorations and more at a discounter such as Dollar General. That way, you're prepared to create the perfect dessert (or two).
* Leave guests with a favor. Thank your guests for coming by surprising them with a little something to take home. Start with plastic fold-top sandwich bags, and fill them with simple goodies such as mini candy bars or homemade cookies. For kids, pencils, stickers or animal crackers are popular and inexpensive favorites. Tie up each bag with colorful ribbons.