Boat Trailering Mistakes to Avoid

Posted by funkyboy from the Hobbies category at 04 May 2010 04:54:43 pm.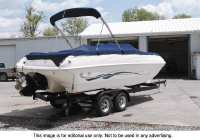 Chances are unless you have permanent docking for your boat, you will need to transport the vessel to and from your water launch area of choice this season. Doing so will require hitching a boat trailer to your vehicle and towing the boat.
To ensure that your trailering experiences are safe and effective, be careful to avoid these mistakes.
* Don't forget to check trailer tire air pressure levels. Tires lose air pressure on their own. Atrailer that has been sitting around all winter is likely to have underinflated tires come the spring boating season. Driving on underinflated tires can lead to blowouts quite easily.
* A blowout is certainly a problem, but a person can become stranded if they don't have a spare trailer tire, which is often a common trailering mistake.
* Losing a tire is a headache. However, losing your boat and trailer can potentially be dangerous -- not to mention expensive. Highballing is an industry term to describe an improperly hitched trailer. It occurs when the coupler rests on the hitch ball rather than sliding down fully into place. If the coupler comes loose, you can lose your trailer provided you don't have safety chains in place as well.
* Salt water and electronics often do not meld, therefore trailer signal lights often burn out and go unnoticed. This can present a safety issue, especially if driving at dawn, dusk or in the evening. You want to ensure your trailer is seen. Always check your trailer lights before embarking.
* A boat trailer adds considerable length onto the vehicle. You may not be accustomed to driving in this manner, meaning you'll have to make wider turns and drive more slowly. Many a trailer has been caught up on sidewalks, curbs, and almost flipped for failing to take turns at the proper speeds or distance.
* Trailers present visibility problems, particularly when backing up. Don't forget to get out of your vehicle and check for obstacles (such as bicycles or toys) before backing up your trailer into the driveway.
* Another important factor is to choose a trailer that fits your boat. If it is too small or too large, it might not work effectively or distribute the hull weight properly. It should also be long enough to eliminate any overhang of the boat transom but short enough to accommodate a propulsion unit of the boat in its fully extended or "down" position.
Follow proper trailering tips for a fun and safe boating season.
CAPTION: Make it a safe and fun boating season this year by avoiding common trailering mistakes.