8 Easy Beauty Fixes With Everyday Items

Posted by funkyboy from the Beauty category at 04 May 2010 09:57:37 am.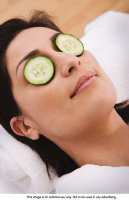 There's a bevy of beauty products on the store shelves promising to do everything from eradicating wrinkles to imparting greater shine in your hair. However, you can achieve many of the same effects with items you may already have around the house -- and for much less money.
Some of the most effective beauty products don't come from the spa or the drug store. They're found right in the kitchen cabinets or refrigerator. A few simple ingredients are all you need to look your best.
1. Avocadoes: Instead of mashing this fruit for guacamole, reserve some mashed avocadoes for a skin mask or to provide therapy to dry hair. Mix a little olive oil in with the avocado, apply to hair, let sit, then rinse thoroughly.
2. Egg yolks: Making an egg white omelet? Don't toss the yolks in the trash. Whip them up, apply to your face for a firming mask. Then rinse off.
3. Tomato juice: While it's true that tomato juice may be able to help lessen the smell of skunk spray, it can also remedy hair that has been damaged by swimming pools. Light-colored hair can take on a green hue from pool chlorine and other chemicals. Applying pure tomato juice to locks, leaving on for 15 minutes, and then rinsing can remove the green tinge.
4. Grapefruit: Squeeze the juice of two grapefruits into a bucket of warm water. Soak your feet for 30 minutes to soften feet and remove tension.
5. Tea bags: Tea bags can reduce puffiness around the eyes and also dry out pimples and boils. Steep the tea bags in warm water and then apply to the affected area. Just be sure the bags are warm and not too hot.
6. Coffee grounds: Coffee grounds make for good composting material, but they can also prove an invaluable beauty item. Rubbing used coffee grounds on cellulite, then wrapping the area in plastic wrap and leaving it for 30 minutes can help diminish the look of the cellulite in a few days.
7. Salt: Make a paste of salt and water and then gently rub it onto your face to serve as an exfoliant.
8. Cucumbers: Who hasn't seen cucumbers used as eye pads? They can reduce redness and puffiness of the eyes when chilled and placed on for several minutes.
9. Oatmeal: Oatmeal is not just for chicken pox. Oatmeal baths can reduce redness, itching and irritation from other skin ailments, such as psoriasis, eczema, and even just dry skin.
CAPTION: Cucumbers aren't the only food item that can double as a beauty treatment.