Avoid Common Wedding Scams

Posted by moviegoer from the Wedding category at 03 May 2010 06:24:40 pm.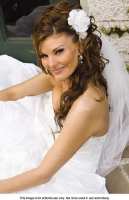 Matthew and Ellen had the wedding of their dreams on a beautiful June day. All of the details went off without a hitch, or so they thought. When the time arrived to receive their wedding photo albums and video a few months after the wedding, the photographer who had promised them the world closed up shop, filed for bankruptcy and absconded with the new couple's precious memories.
Tales of wedding woes frequent the news, especially as wedding season approaches. Stories about reception sites that have double-booked rooms, photographers who have not delivered photos, bridal gown shops that don't have a dress finished on time and so many similar events are no longer a rarity.
The majority of wedding vendors are respectable businesses looking to provide couples with the ideal services and memories of their special day. However, some other vendors are just looking to make money at all costs.
Avoiding trouble with your wedding means taking matters into your own hands and thoroughly protecting yourself.
* Investigate the business or individual before exchanging money. A simple search online for reviews or checking with the Better Business Bureau should reveal if a business has any complaints against it. Complaints can range from bad service to lawsuits. This easy step can protect couples from potentially going into business with a company that should not be trusted.
* Get word-of-mouth recommendations. A couple who has used a particular bridal vendor and had pleasant results is the best advertisement. Ask friends and family members who have gotten married who they used for flowers, photos, music and more. Using the same people is not being a copy-cat; it's being a shrewd consumer.
* Contracts are essential. Have all of the details of the business transaction spelled out in a contract that both the vendor and you sign. Writing "Size 8" gown is not enough. Make sure the model number, price, details regarding deposits, alterations, etc., are included. DJs can write how many hours they will be playing music, how many breaks they will take, who exactly will be handling the wedding itself, and other details.
* Check who will be servicing your wedding. On occasion a business may subcontract its services. For example, the photographer you meet at the studio may not be the photographer who shows up at your wedding. If you have a preference as to who services your event, be sure to request that person and have it included in the contract.
* Obtain certification. Some scams are more subtle. For instance, bridal shops who remove designer labels from gowns because they are not authorized retailers is a subtle scam. Another is jewelry stores that misrepresent the quality of diamonds and other jewelry. Be sure to get legitimate certification when purchasing anything of value.
* Ensure the vendor has the equipment described. Some limousine companies may send out flyers advertising high-end vehicles they don't actually own or have access to. They subsequently arrive on your wedding day with a different vehicle. Without a contract specifying the vehicle of your choice, you have little recourse against the company. Filter out shady brokers by asking to come inspect their vehicles on an off-day, like Tuesday afternoon. You want to verify that they indeed own the limo, and that it's in good condition.
* Skimpy floral arrangements. Upon booking a florist, most businesses will sit down with couples and work up a sample bouquet or arrangement based on personal preferences. Come the wedding day, however, couples might find their arrangements have considerably fewer flowers in them or they're not the blooms originally chosen. Flowers are expensive, and some florists cut costs by skimping on the amount of actual flowers (not filler) they use. Be sure contracts spell out how many flowers will be in each arrangement, what type of flowers, how many centerpieces, bouquets, boutonnieres, etc.
Be sure you can enjoy your wedding and get the services you paid for by being savvy consumers. Don't simply open up your wallet to the first vendor you meet.
CAPTION: Avoid common wedding day scams through careful research and some consumer savvy behavior.