Upgrade your tool collection for fall home projects

Posted by moviegoer from the Home and Garden category at 03 Sep 2017 06:13:59 am.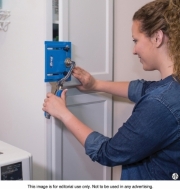 When the last cookout is history and it's time to move indoors and on to fall home and shop projects, Woodcraft suggests that you consider adding some new tools to your collection for easier home improvements and repairs.
Change the look of your decor with new hardware in every room, and try out some new jigs from Kreg — Drawer Slide, Concealed Hinge, and Cabinet Hardware Jigs, along with the Kreg Shelf Pin Jigs (1⁄4" and 5 mm).
"Kreg Hardware Installation Solutions make it easy to add the perfect final touch to your projects by allowing you to confidently install knobs and pulls, concealed door hinges, drawer slides, and adjustable shelves," Woodcraft senior product development manager Peter Collins said. "These durable, adjustable jigs position your hardware and guide your drill so you get accurate, repeatable, professional-quality results every time. These jigs are an essential part of the Kreg 'Kitchen Makeover Series' that provides a helping-hand for those folks that aren't building new but rather changing hardware and paint colors."
Installation of hardware, shelving, cabinets, doors and windows and many building projects require a driver, like the Bosch PS31-2A 12V Max 3⁄8" Drill Driver that comes in a kit. Lightweight and compact, the lithium-ion Bosch driver delivers 265 inch-pounds of torque and is great for overhead and tight area work.
For projects that require crosscutting, whether straight or at an angle for joining crown molding, framing doors and windows and more, the lightweight, portable DeWalt 10" Single Bevel Compound Miter Saw will do the job. It has a 15 amp, 5,000 RPM motor and tall sliding fences that support 41⁄2" of crown molding vertically nested.
Sanding is a necessary part of many home and shop projects. For hand-sanding, the Preppin Weapon is an ergonomically-shaped ABS plastic sanding block that fits comfortably in your hand to reduce fatigue. Use wet or dry and load as many as four sheets of sandpaper at one time, removing each one as the abrasive wears out. For power sanding, the Norton 5" Random Orbital Sander features a 2.0-amp motor that generates 12,500 orbits per minute and provides a 3⁄32" orbit that helps make quick work of most sanding projects. Ergonomic, rubber palm grip is comfortable and eliminates fatigue. An 8-hole, hook-and-loop pad face offers increased versatility in abrasive selection.
For cutting, grinding, sanding, carving and polishing, the Dremel 3000 Rotary Tool with 24 accessories is a good choice. The upgraded tool features an EZ Twist™ nose cap with an integrated wrench that allows the nose cap to function as a wrench to tighten accessories. A more efficient fan design and side vents for a cooler running tool make it comfortable for extended use.
Once a project reaches the finishing stage, the new HOMERIGHT Finish Max Fine Finish HVLP Sprayer is a good choice for application. The Finish Max will handle any solvent- or water-based product — latex paint, milk paint, chalk paint, furniture paint, stains and finishes. It is easy to set up, use and clean. Features include precision volume control and an adjustable spray pattern. HOMERIGHT Small Spray Shelter and Large Spray Shelter will help contain overspray and drift when using the sprayer.
Brighten your workspace with the lightweight, portable Keystone 1200 Lumen Work Light that can be set nearly anywhere the 6' cord will reach. Light can pivot 360° around its axis.
Products for working safely and in a clean environment are always important. FastCap Safety Glasses offer UV protection and have clear anti-fog lenses to allow maximum light transmission. Six-mil-thick Powder Free Nitrile Gloves in three sizes provide inexpensive protection for your skin, keeping your hands free of stain and glue. Deluxe Neoprene Gloves in three sizes are designed for heavy-duty tasks such as stripping paint or finish. Lightweight, muff style SAS Hearing Protectors can be your first line of defense against hearing loss. They are rated of NRR 23.
Keeping a clean work area is safe and healthy. The 6.6-gallon Karcher WD5/P Wet/Dry Shop Vacuum has a powerful, 1800-watt, variable-speed motor. The onboard power outlet allows the vacuum to come on and go off automatically when the tool is turned on or off.
To learn more about these and other products, visit your local Woodcraft store, call (800) 535-4482 or visit www.woodcraft.com.