Woodcraft offers ideas for early holiday shopping

Posted by moviegoer from the Home and Garden category at 03 Sep 2017 06:08:04 am.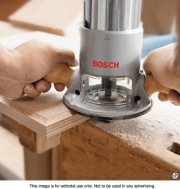 Avoid the crowds and start your holiday shopping now at Woodcraft, where you will find quality brand tools, accessories and supplies for the woodworkers and DIYers on your list. A few of the many gift ideas you will find at Woodcraft are featured below.
Tools for Your Projects
• Woodworkers and homeowners alike will find a lot of uses for this Bosch Electronic Variable-Speed Fixed Base Router. From making perfect edges on a narrow piece of wood to shaping stylish molding, cutting dadoes to affixing shelves in a bookcase or cabinet, or cutting patterns, grooves and designs across multiple pieces of wood, this router is the perfect tool. Designed to work upright or in a router table, it features a powerful 21⁄4 HP motor with soft start and advanced speed-control technology.
• With a 2.0 amp motor that generates 12,500 orbits a minute, the 5" Norton Random Orbital Palm Sander will make quick work of most sanding projects, and the rubber palm grip reduces hand fatigue during extended use.
• Use the WoodRiver Low Angle Block Plane with Adjustable Mouth to finesse trim (miters and back bevels, for example), as well as anywhere you need to remove controlled amounts of material (trim, molding, doors or other areas).
• The Wall Lenk 4-in-1 Soldering Kit can be used as a solder gun, blow torch, heat blower or hot knife for a wide range of tasks, from small appliance repairs to cutting plastic, acrylic, vinyl, polystyrene or kaizen foam and thawing frozen locks.
• EHOMA 24" Parallel Jaw Clamps feature large parallel clamping surfaces for the most demanding jobs, plus the clamp can be converted into a spreader.
• The Thread Detective easily identifies nuts and bolts, both inch and metric, with gliding gauges on a wire lanyard.
• The Gyokucho Ryoba Razorsaw's 7"-long blade features both a 19 TPI crosscut side and a 9 TPI ripcut side, plus the handle can be tilted in relation to the blade to allow access into areas that are otherwise awkward or impossible to reach.
• Easy to use and cleanup, the HOMERIGHT Finish Max Fine Finish HVLP Sprayer will spray most solvent (except lacquer) or water-based products — latex paint, milk paint, chalk paint, furniture paint, stains and finishes. Vertical, horizontal and 45-degree angle settings and an easy-to-select spray pattern from 1" to 6" wide give the user precision control during application.
• HOMERIGHT Large and Small Spray Shelters provide an enclosed spraying area to help reduce overspray and drift.
Work Environment & Safety
• Festool's SYSROCK BR 10 provides FM Radio reception, Bluetooth streaming capability, hands-free calling, AUX-IN, and much more. Listen to your tunes with either corded or cordless functionality.
• Take freshly brewed coffee (or tea) almost anywhere with the CoffeeBoxx Single Serve Brewing System that folds into a compact cube for transport. Built-in, stainless steel tie-down points secure the CoffeeBoxx in your vehicle.
• The TANOS SYS-Sort IV/3 systainer has three levels of parts and tool storage. Each drawer opens within the stack for easy access. Drawers can be customized with bins or the optional drawer accessory pack (both sold separately). Connect the Sort IV/3 by T-LOC to other TANOS storage products.
• The RAMIA HB-S Workbench is designed for use in a small space. It stands flat against the wall to a height of 48.5", extending out only 9.84" with the bench down. Swing the bench up into the work position, which is 29.5" into the room. When finished, swing it down again. The bench comes with two front vises.
• "P100" in the GVS Elipse P100 Mask name means this mask protects against all particulates, offering a minimum efficiency of 99.97 percent or higher at 0.3 microns particle size. The mask is available in two sizes, S/M and M/L.
Don't know what to buy? A Woodcraft Gift Card makes a perfect gift.
To learn more about these products and others, visit your local Woodcraft store, call (800) 535-4482 or visit www.woodcraft.com.