LED lights add style without sacrificing safety

Posted by moviegoer from the Automotive category at 03 Sep 2017 06:01:32 am.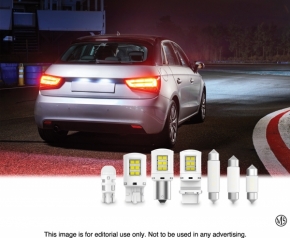 The reasons behind the popularity of certain automotive products tend to vary. Some drivers might prefer certain features because they're stylish, while other drivers might be drawn to products because of their safety ratings. The growing popularity of LED lights proves that certain automotive products can give drivers the best of both worlds.
In recent years, more and more drivers have replaced their manufacturer-installed incandescent lights with LED lights in both the interior and exterior of their vehicles. LED lights provide considerably more aesthetic appeal than traditional incandescent lights, but the reasons to install LED lights stretch far beyond the high tech, stylish look they can give to a vehicle.
Brighter output, superior light diffusion
LED lights burn much brighter and more powerful than conventional incandescent lights. But more light is not necessarily best, as uncontrolled bright light can be dangerous, creating excessive glare. Philips Ultinon lights provide excellent light distribution, employing a wide angle beam so drivers can see and be seen better. Ultinon LEDs are also available in several colors, depending on the application. Bright white LEDs are ideal for use as backup and position lights, while the cool blue lights add high tech flare to interiors and floors, trunks, and glove compartments. Amber LEDs work well with turn signals and hazard lights, whereas red lights are ideal for taillights.
Braking & turning
Many motorists only think of their vehicle lights through the lens of how the lights help them see the road. But lights also play a vital role in making drivers' vehicles more visible to fellow motorists. Unlike traditional incandescent bulbs, LED lights turn on instantly, giving other motorists more time to react when drivers brake or turn. That's especially important at night, when reaction time is already greatly compromised by a lack of natural light.
Durability
Homeowners who have installed LED lights in their homes no doubt appreciate how infrequently such bulbs need to be changed. The same benefits apply to LED lights for automobiles. Built to deliver a robust, long-lasting performance, Ultinon LEDs can last up to 12 years, all the while providing superior light output to traditional, often fast-burning incandescent lights. For many drivers, 12 years with a vehicle is a lifetime, meaning that once they're installed, Ultinon LEDs, which were designed as an easily installed direct fit for conventional interior and exterior bulbs, the lights may never need to be replaced.
Many automotive upgrades are touted for their style or safety. LED lights provide aesthetic appeal while also improving driver visibility and making vehicles more visible to fellow motorists. More information about Philips Ultinon LEDS can be found at www.philips.com/automotive.