Gifts for the cook, baker and entertainer: Top 10 under $50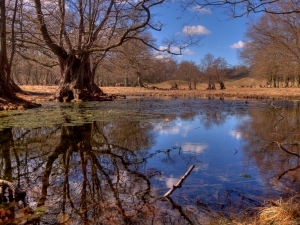 Posted by peter88 from the Gifts/Collectibles category at 03 Sep 2017 05:49:34 am.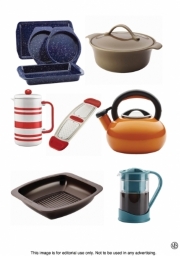 Delight and inspire the cook, baker and home entertainer with affordable gifts of well-crafted cookware, stoneware, bakeware, and kitchen accessories. Here are 10 kitchen gift ideas under $50 to consider for culinary enthusiasts:
New Farberware Luminescence 12-inch Covered Deep Skillet ($29.99) — Add elegance to weekday meal-making with this versatile skillet, distinguished by a luminous exterior in Sapphire Shimmer (also available in Copper Shine). Made of even heating aluminum, Farberware Luminescence features a dimpled high quality nonstick surface for exceptional food release.
New Circulon 16.5 x 14-inch Roaster with Self Rack ($19.99) — This durable, heavy-duty steel roaster features PFOA-free premium-quality nonstick inside and out in richly-hued Chocolate Brown for excellent food release and easy cleanup. Smartly designed with a built-in rack, and oven safe to 450° F, it's perfect for roasting meats and poultry.
New Farberware Cast Iron 12-inch Open Skillet with Pour Spouts ($19.99) — Fans of cast iron cooking will appreciate this conveniently pre-seasoned, generously sized skillet, which has two pour spouts for easy removal of grease and liquids without messy spills.
Anolon Vesta Stoneware 2.5 Quart Covered Casserole in New Umber Color ($39.99) — Beautiful stoneware is a boon to cooks and entertainers, making it easy to bring dishes straight from the oven to the table. This sleek casserole in a sophisticated Umber color is also dishwasher-, microwave- and freezer-safe.
New Farberware Buena Cocina Stainless Steel 6 Quart Covered Casserole ($31.99) — Also known as a caldero, which is a staple in Hispanic cuisine, this mirror-polished, stainless steel pot is perfectly sized for family-size weeknight meals and gatherings. A fully encapsulated aluminum base ensures fast and even heating.
New Paula Deen Speckled 4-Piece Bakeware Set in Deep Sea Blue ($39.99) — Paula's love for retro-style enamelware is the inspiration for this durable steel bakeware, which features colorful nonstick inside and out. The handy set includes a 10 x 15-inch Cookie Pan, two 9-inch Round Cake Pans, and a 9 x 13-inch Cake Pan.
New BonJour Cold Brew Coffee Maker ($49.99) — Crafted in heat-resistant borosilicate glass, the 50-ounce carafe features a high-quality, double stainless steel filter with a removable base for easy cleanup. Offered in Black and Aqua, this simple-to-use coffee maker makes smooth-tasting coffee with less acidity.
New BonJour Ceramic French Press ($49.99) — Coffee lovers who prefer the rich taste of coffee brewed in a French press will appreciate the form and function of this boldly striped (in Red and Black) 8-cup model. The insulating stoneware carafe and lid keeps freshly brewed coffee at its optimum heat and flavor longer and reduces risk of breakage.
Circulon Sunrise Teakettle in New Orange and Royal Blue ($19.99) — Boiling water to brew tea or coffee is never dull with colorful enamel on steel teakettles, and the classically round-shaped 1.5-quart Sunrise comes in a rainbow of hues. Other colors include Bell Pepper Red, Rhubarb Red, Mustard Yellow, Capri Turquoise, and Black.
New Rachael Ray Multi-Grater ($24.99) — Designed by Rachael herself, this clever grater combines two razor-sharp blades — Medium and Ribbon — into one extra-long tool that can be positioned on a cutting board or bowl or over a skillet or sauté pan. Perfect for grating cheese, garlic, ginger, and more, the Multi-Grater is styled in Red and Marine Blue.
For more information, please visit www.anolon.com, www.circulon.com, www.farberwarecookware.com, www.bonjourproducts.com, and www.PotsandPans.com.