Tips for Maintaining Your Car in Snowy Conditions

Posted by moviegoer from the Automotive category at 10 Jul 2011 07:22:02 pm.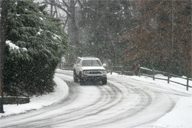 When the weather outside is frightful, the road is the last place you want to be, especially if your car hasn't been prepared to deal with snowy conditions. Snow and ice covering the roadways can pose a serious threat to you and your vehicle.
There is no time like the present to get yourself and your car ready for winter driving. Firestone Complete Auto Care offers the following tips to get you on your way:
Slow down
* Reduce your speed during adverse driving conditions, and be prepared for longer stopping distances on snowy or icy pavement. Try to avoid abrupt movements when braking, accelerating or turning.
Tires are the key
* A tire's PSI (pounds per square inch) can drop one pound for every 10-degree drop in temperature. Both under- and over-inflation lessens a tire's gripping action. Once it gets cold, tire pressure should be checked weekly. Don't forget to check your spare tire, too.
* If snow and ice are a problem in your area, consider installing winter tires, which are specially designed to grip slick roads. Snow tires should be installed on all four wheels; using two different types of tires on the same vehicle can cause handling problems.
Be seen
* Always use headlights at dawn and dusk, or while driving in fog, rain and snow, to warn other drivers you are there. If you can't see them, they can't see you! Don't forget to activate your flashers when appropriate.
* Take a few moments to check your wipers -- they don't last forever. If the rubber feels rough or seems cracked, replace the wiper blades. Older wiper blades can cause windows to become dangerously dirty, especially at night or in snowy conditions when there is likely to be salt on the road. Good visibility is a necessity.
No matter the time of year, it is important to take the appropriate measures to ensure that your vehicle is well maintained. However, during winter, when the roads and conditions are particularly unpredictable, proper maintenance is essential for keeping your car prepared for anything the season delivers.