Every Car Needs a Little TLC ? How to Maximize Vehicle Life

Posted by moviegoer from the Automotive category at 10 Jul 2011 07:09:52 pm.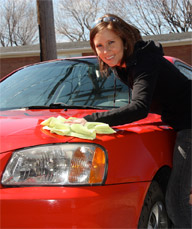 During the winter months, cold weather gives way to the warm, fuzzy feelings brought on by the presence of that certain special someone. But it's not just your significant other that deserves attention -- your hard-working vehicle needs some extra TLC as well. Tires Plus offers a few tips to keep your vehicle running strong:
* Listen to each other. Keep your engine properly tuned. A vehicle that has a serious maintenance problem, such as a faulty oxygen sensor, can decrease gas mileage by as much as 40 percent. A single misfiring spark plug can cut fuel economy by up to 4 percent.
* Keep your vehicle refreshed. Change the engine oil. Use the recommended grade of motor oil for your vehicle, and change it according to your vehicle owner's manual, which usually says every three months or 3,000 miles. Prolonged driving without an oil change may cause severe engine damage. Regularly check your vehicle's fluid levels, including transmission, power steering, windshield washer and coolant.
* Keep in constant contact. Maintain your tires. Check inflation pressure monthly, and make sure your tires are properly balanced. Don't forget to rotate your tires according to the maintenance schedule and have the alignment checked at least once a year.
* Be considerate. Use good driving habits. Accelerating quickly and stopping abruptly can prematurely wear your vehicle's engine, transmission, tires and brakes. Aggressive driving also wastes gas.
* Protect it from the elements. Keep the exterior washed and waxed to preserve the paint finish and protect your vehicle from the environment. Salt, water, sand and even de-icing chemicals on the road can cause rust or other damage to a vehicle.
Every relationship takes work, even the one you have with your car. Never underestimate how far a little tender loving care toward your vehicle can go!