Simple Tips for Beautiful Hair Looking Your Best on a Budget

Posted by funkyboy from the Beauty category at 04 May 2010 09:49:19 am.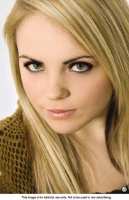 (MS) -- Everyone is looking for ways to save money during the recession. Many are brown bagging their lunches, car pooling and getting their hair cut and colored less often. Wherever you've chosen to cut back, you still can keep yourself looking fresh and modern. Here are a few tips from Damien Carney, International Artistic Director for JOICO, on what you can do to look your best on a budget.
1) Protect your hair from sun damage. The sun naturally lightens your hair and oxidizes color-treated hair. Look for products that shield your hair from harmful ultraviolet rays, so you can maintain your hair color for longer.
2) Treat damaged hair. Taking a few moments to repair your hair could be all you need to refresh your look. For only $15.95, K-PAK Intense Hydrator is a rich, creamy treatment that restores moisture and keeps hair strong. It helps combat the damage caused by blow dryers, flatirons, relaxers, perms and coloring, enabling you to go longer periods of time between appointments.
3) Maintain your color at home. You can make your color last longer by treating it right and choosing products designed to extend the life of color. JOICO Color Endure Shampoo ($12.95) is specifically designed to keep your color from fading.
4) Extend the time between haircuts. If you've been yearning for long hair, now may be the perfect time to start growing out your cut. Cutting in choppy layers keeps your hair looking groomed and minimizes the appearance of split ends. Set up an appointment with your stylist to discuss a look that requires minimal upkeep.
5) More for less. Always check for larger sizes of your favorite products to make sure you are getting the most value for the money. Often you can get twice as much product for just a few more dollars.
With a little forethought and planning, you can continue to look your best, while sticking to your budget. Considering the best at-home treatments, choosing a cut and color that works and protecting your hair from the elements, all go a long way to keep you current and solvent. For more information on haircare tips, products and information from the experts at JOICO, visit www.joico.com or call 1-800-80-JOICO.